Read More +
CLASSIC CAR PORTRAITS
Immortalise your pride and joy with a professional classic car photoshoot, taken with a vintage 1960's Rollieflex. Available in a range of formats to choose from to suit your budget.
Read More +
RETRO CUSTOM MUGS
Our ever popular Retro Custom branded coffee mugs are now back in stock. While you are in the garage pondering over the next step of your project, get inspired by drinking your tea or coffee our of one of our Retro Custom mugs!
Read More +
RETRO CUSTOM LIMITED EDITION NEW BEETLE
Retro Custom were commissioned by Lancaster Volkswagen Letchworth to design and revamp a brand new 2014 New Beetle in 'retro' styled theme with air-cooled VW influences.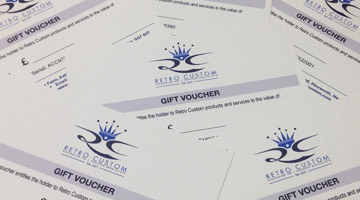 Read More +
GIFT VOUCHERS
Stuck for that ultimate gift for the VW owner who has everything? How about a Retro Custom gift voucher? Gift vouchers cover all workshop services and Retro Custom products and are available for however much you would like to spend.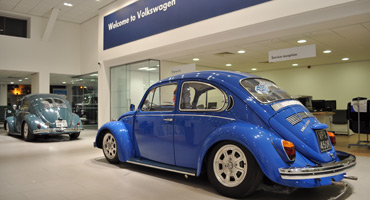 Read More +
VOLKSWAGEN DEALERSHIP DISPLAYS
When Lancaster Volkswagen launched their new revamped dealerships, Retro Custom were invited to organise a full showroom display of Air-Cooled Volkswagens.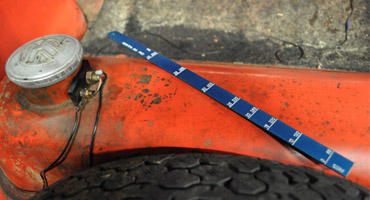 Read More +
PRE-1961 FUEL DIPSTICKS
Retro Custom manufacture a faithful reproduction of the hard to find fuel measuring dipstick for pre 1961 Beetles and Karmann Ghias which did not have a fuel gauge from factory.
LATEST BLOG POSTS
VIEW ALL -
04 February 2018 by Super User, in BLOG

Darren's Rothfink Bug In For MOT

Darren dropped his super cool Rothfink branded '63 ragtop bug in for its annual MOT today.

Read More +

16 January 2018 by Super User, in BLOG

Front Axle Beam Replacement

The front axle beam on Bruce's limited edition Sunshine Beetle had seen better days and was too...

Read More +

31 December 2017 by Super User, in BLOG

Work Starts On Nick's Floorpan Repair

Work got underway on Nick's semi-auto beetle floorpan half replacement. The existing pan halves...

Read More +
Retro Custom Wallpaper For Your Computer, Tablet or Smartphone
HIGH RESOLUTION

 Optimised for your desktop PC or smartphone 

SEVERAL DESIGNS AVAILABLE

Choose from a number of different images. 

FREE DOWNLOAD

Just download and update your background settings. 
DOWNLOAD NOW 
TRUST MY GARAGE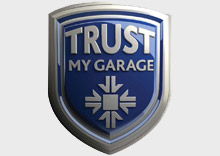 Retro Custom are proud to be a fully vetted and accredited member of the Independent Garage Association's Trust My Garage Scheme. 
The Independent Garage Association is part of the Retail Motor Industry Federation, one of Britain's oldest motor trade organisations. All Trust My Garage members operate under a strict code of practice and are part of a collection of Britain's best local garages and vehicle repairers.
All members are dedicated to providing the highest standards of personal skill and service and by choosing a TMG approved garage you can rest assured that your vehicle will be worked on and serviced according to the manufacturer's standards and the IGA's own strict standards of practice. 
To find out more about the Trust My Garage Scheme, click here. 
FREQUENTLY ASKED QUESTIONS
'Simply click on the 'Online Book-In icon at the top of the page and fill in your details and we will get back to you with an available slot. Alternatively, call us on 01462 743611 and we will give you available dates to choose from depending on the work you require.'
'Yes, we have the facilities to accept all major credit and debit cards. Please note that there is a 2.8% charge for credit cards including business credit cards due to processing charges.'
'No. Unfortunately we no longer accept cheques as a form of payment. We accept all major debit and credit cards, cash and bank transfers.'
'No. Unfortunately, in an effort to reduce customer waiting times due to heavy demand for our services, we do not presently undertake work on water-cooled or modern vehicles. However, we do work on both air-cooled and water-cooled Brazilian bay window buses. Aside from these vehicles, we have a pre-1979 cut off and do not work currently on T25's. We apologise for any inconvenience this may cause.'
'All work undertaken is subject to approval of a works estimate. All labour and parts are detailed in the estimate and we will inform you of any further costs so you are always aware of how much your job is likely to cost. Once the estimate is approved, no additional work outside the estimate will be done with out your approval.'
'Yes, we are happy to help and advise you on what can be done within your budget. If you inform us of what you want to have done and how much you wish to spend, we will do our best to accommodate your requirements.'
TESTIMONIALS
What are our Customers saying about us?
I wouldn't trust anybody else with my 'baby'. They will look after your car as if it were their own, and they will give you time and service money can't buy. It's a pleasure being their customer.

Helen Burman // VW Karmann Ghia

Very high quality of work, profound knowledge of everything air cooled and friendly and helpful to go with it. Won't take my bus anywhere else.

Paul Silom // 1972 Bay Window Camper

Fabulous company who have given us fantastic service looking after our bay Hatty for the past five years.

Helen Shepherd // Brazilian Bay

Found Larry and his team on the internet. Been looking for an aircooled specialist for ages. Hey got one in Baldock. From stage one to completing a absolute full overhaul checking all the nuts and bolts and completing a major service these guys were brilliant. And at an affordable price. Magic.

Des Baggott // Brazilian Bay
Welcome to Retro Custom. Hertfordshire's Premier Classic VW Specialists