Introducing Retro Custom.
Established in 2001, Retro Custom Ltd are an air-cooled Volkswagen specialist based on the Hertfordshire, Bedfordshire and Cambridgeshire borders. Responsible for turning out a number of familiar and award winning cars on the UK Volkswagen scene, Retro Custom have the skills and experience to undertake work on all levels of classic Volkswagens from show car to daily driver. 
Retro Custom offer servicing on your classic just like Volkswagen did back in the day. With a range of servicing schedules available from a simple engine service to a complete vehicle checkover, there is something available for all budgets and conditions of vehicle.
Utilising a state-of-the-art garage management system, every stage of your vehicle's visit to Retro Custom is documented and your account is kept up to date so you will always know where you are with the cost of your job. From being issued with an estimated cost for the works to be done at the start of the job to a monthly statement and final invoice, you will always know where your money is being spent and every penny goes so you can be assured of no hidden surprises. 
WHY CHOOSE US?
Fully vetted and accredited by the Retail Motor Industry Federation.
Approved and vetted member of RMI's Trust My Garage scheme.
Your project fully managed by our sophisticated Garage Management System.
Extensively experienced, qualified and knowledgeable air-cooled VW specialist staff.
Fully equipped 9000sq ft workshop.
All budgets catered for.
Free optional annual MOT and Service reminders
Maintained vehicle storage
All work fully authorised by yourself.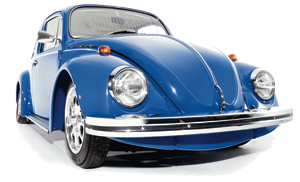 At last I've found the right place to take care of my Karmann Ghia...Lovely people and perfect work.

DAVE SHRIMPTON - 1971 Karmann Ghia
WHERE IT ALL BEGAN.. 
Retro Custom was established in 2001 by Larry Stockford offering a range of custom designed and manufactured parts and accessories which were exhibited on show vehicles which Larry built. The success of these vehicles led to many requests by customers for electrical, lowering and mechanical services as well as general service work, so Retro Custom successfully branched out and in 2007 a permanent workshop premises was opened to the public.
Following the success of the workshop after only 7 months of opening, in early 2008 Retro Custom moved to a much larger and better equipped 2,400 sq ft premises which allowed an increase of the number of cars at the workshop in order to reduce booking waiting times. 
In early 2014, Retro Custom expanded further and moved to a new and significantly larger 9000 sq ft premises which allowed maintained vehicle storage to be offered to customers. 
At well as offering a comprehensive range of workshop services, Retro Custom are still constantly developing new and exciting products, with over 120 new products currently under development for future release.